---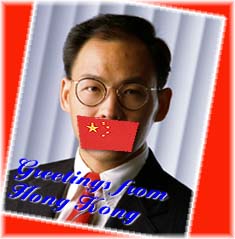 China moves to limit human-rights laws in Hong Kong

From The Ottawa Citizen
By Jonathan Manthorpe
&copy Infomart Online

China faced charges yesterday that it is planning to undermine Hong Kong's civil liberties after the release of proposals that would gut the territory's bill of rights.

Hong Kong Governor Chris Patten said China seems intent on curtailing human and political rights and its pledge to give the territory ``a high degree of autonomy'' after the July handover of sovereignty must be questioned.

``These proposals will cause enormous concern both in the community and among those around the world who want to see a successful transition in Hong Kong,'' Patten said. ``Some of them appear to be aimed solely at undermining the legal basis for civil liberties in Hong Kong, and will certainly have that effect.''

The central proposal is to water down Hong Kong's bill of rights, which was introduced in 1991 to reassure its people after China's bloody crackdown in 1989 on the pro-reform movement at Beijing's Tiananmen Square.

Sights are also fixed on Patten's 1992 election reforms, which give a universal adult franchise to the territory's 6.3 million people; on a bill entrenching the right to form political parties; and on 1995 reforms to Hong Kong's public- order ordinance, which allows peaceful demonstrations.

The proposals, which scrap or amend 25 laws, were unveiled by a committee handpicked by China.

Special committees of Hong Kong's elected legislature, itself to be scrapped when the territory returns to Chinese rule on July 1, are to hold sessions Friday to hear from legal experts about the implications of the proposals.

Chinese officials were unrepentant yesterday. They said political and civil reforms introduced by the Hong Kong government since the 1984 Sino-British treaty governing the handover of sovereignty are illegal and must be removed.

They said Britain has tried to make the bill of rights override all other laws and this flies in the face of agreements between London and Beijing.

``We must return to the status quo before all these changes were made,'' said a senior official of the Xinhua news agency, China's unofficial diplomatic mission in Hong Kong.

Another Beijing official said removing the reforms will improve civil liberties and avoid confusion by giving the people of Hong Kong the unrestricted protection of China's mini-constitution for the territory, the ``basic law.''

The proposals, which must be ratified by Beijing, were drawn up by a legal-affairs panel of the 150-member preparatory committee, a carefully selected group dominated by mainland officials and Hong Kong businesspeople with interests in China.

Democratic legislator Emily Lau warned yesterday that Beijing's planned changes are a charter for repression and uncertainty: ``People will feel very oppressed because they will fear the new regime is very intolerant.''

Patten accused China of misunderstanding Hong Kong's British common-law system, which Beijing has pledged to keep in place. He added that the territory's bill of rights only entrenches the International Covenant on Civil and Political Rights, to which China agreed in the 1984 pact with Britain.

Britain's last governor after 150 years of colonial rule also chided Beijing for planning to make the legal changes itself, rather than leaving them to the man chosen to head the post-handover government, shipping magnate Tung Chee-hwa. Patten suggested Beijing's actions indicate Tung will not have the freedom to govern Hong Kong as an autonomous region within China, as has been promised.

The move by the China-controlled preparatory committee, which met Sunday in Beijing, was not a surprise. While Hong Kong lawmakers have been busily building a body of civil- rights guarantees since Beijing's 1989 crackdown on dissent, Chinese leaders have promised after their July 1 takeover to undo all changes made without their approval.

The repeal of sections of the bill of rights has been under discussion since October 1995. But analysts had hoped that China would not go through with the move, which they say is bound to shake confidence and create legal questions.

The proposals will likely be formally approved by China's national people's congress, then be passed into law by the China-backed provisional legislature this summer, a member of the preparatory committee said yesterday.
---